Houston Whiplash Injury Lawyer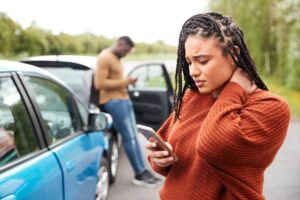 The physical consequences of being in an accident can range from relatively minor injuries to life-threatening harm. Among the more common injuries car accident victims suffer is whiplash. Whiplash can have truly devastating consequences. But insurance adjusters often downplay the seriousness of the injury and pressure injury victims into accepting a lowball settlement.
Working with an experienced Houston whiplash injury attorney is the most effective way to fight back against these tactics. At Fleming Law, we have been doing just that for over 30 years. Our legal team can fight tirelessly for the compensation you deserve so you can focus on moving on with your life. Call our offices today or contact us online for a free consultation to learn more about how we can help you.
What Is Whiplash?
Whiplash is a neck injury that occurs when a sudden impact whips the head forward and backward quickly. The momentum can cause sprains, strains, and tears to the muscles, tendons, and ligaments in the neck and spinal column. While it is most commonly associated with car accidents, whiplash can also happen under other circumstances.
The severity of the injury depends on factors such as the force involved and whether your neck muscles or spine had any pre-existing damage. However, you may still be entitled to compensation for even a more minor case of whiplash. Speaking to a qualified Houston personal injury attorney will help you understand your legal options.
What Are Some Symptoms of Whiplash?
Common whiplash symptoms include:
Neck pain, which may worsen with movement
Stiffness or mobility issues in the neck
Headaches
Pain that radiates to the shoulders or arms
Dizziness
Ringing in the ears
Blurred vision
Concentration problems
Sleep issues
Symptoms of whiplash do not always appear immediately after an accident. They can sometimes emerge in the days and weeks following the collision. However, a medical professional can detect injuries with invisible symptoms. Be sure to seek help immediately after an accident, even if you feel fine. Early diagnosis can help your recovery as well as your compensation claim.
What Are Common Causes of a Houston Whiplash Injury?
Whiplash injuries often occur in motor vehicle accidents, including:
Rear-end accidents
T-bone accidents
Head-on collisions
Truck accidents
Most people associate whiplash with traffic collisions. However, it can also occur in other types of accidents, such as slip and falls, workplace accidents, and falls from heights. Whatever the cause, if another party's negligence resulted in your neck injury, an experienced Houston personal injury attorney can fight for the compensation you deserve.
What Is the Most Effective Treatment for Whiplash Injuries?
For many people, the word "whiplash" conjures images of large foam collars to immobilize the neck. While this used to be the recommendation of medical professionals, most doctors now believe that keeping the neck immobile for long periods can make whiplash worse. Today, primary treatment plans for whiplash include topical, oral, or injected pain medications to improve comfort. A doctor may also suggest physical therapy or simple exercises to restore the neck's mobility.
Your specific treatment plan will depend on the severity and nature of your injury. Always follow the instructions of your medical professional. Doing so will optimize both the improvement of your condition and your chances of receiving full compensation.
How Do You Prove the Other Person Is Responsible for My Whiplash?
Proving fault for a whiplash case can be challenging without the help of a skilled personal injury attorney. When you hire a Houston whiplash lawyer, they can:
Conduct a thorough investigation of the accident
Interview eyewitnesses
Secure photographic or video evidence of the incident
Gather medical records
Consult with medical experts about the seriousness of your injury
By taking these steps, your attorney can determine who is liable for your injury and calculate the value of your losses. This information will put you in a solid position to negotiate for the full and fair compensation you deserve.
What Compensation Can I Receive for My Whiplash Injury?
Depending on the specifics of your claim, you may be eligible to recover compensation for:
Medical expenses
Lost income
Lower future earning potential
Pain and suffering
Speak to a Houston whiplash injury attorney to learn more about what compensation you can claim.
What Is the Statute of Limitations for Filing an Injury Claim?
Deadlines for filing an injury claim can vary depending on the insurance company and the specific policy. However, if negotiations fail, you may need to file a personal injury lawsuit to fight for compensation before a judge and jury.
In Texas, the statute of limitations for most personal injury lawsuits stipulates that you must file any legal action within two years of the accident date. Filing after the window has closed allows the at-fault party to move to have your case dismissed, costing you your shot at compensation. Depending on the situation, your specific case may have less or more time. Consulting an experienced Texas personal injury attorney as soon as possible can help ensure that you do not miss this crucial deadline.
Contact a Houston Whiplash Injury Lawyer
If you suffered whiplash in an accident caused by another party's negligence, the dedicated legal team at Fleming Law is ready to fight for your right to compensation. As an established Texas personal injury firm with over 30 years of experience, we have the resources and skills to handle your whiplash injury claim from start to finish.
Our board-certified attorneys have recovered millions of dollars for clients who suffered whiplash and other serious injuries. We know how to calculate and prove the full value of your losses, skillfully negotiate with insurance companies, and take your case to court if needed. We are ready to put this experience and track record of success to work for you. Contact us today for a free consultation with a Houston whiplash injury lawyer, and we'll tell you how we can get started on your case.