Houston Rear-End Accident Lawyer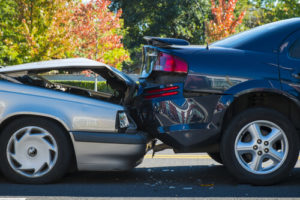 According to the National Safety Council (NSC), rear-end collisions accounted for about 17 percent of all multi-vehicle collisions and resulted in 3,000 fatalities nationwide in one recent year alone. If you were injured in a rear-end collision at little to no fault of your own, you should consult with an experienced attorney as soon as possible. You may be entitled to significant legal compensation from the at-fault party.
At Fleming Law, our skilled rear-end accident lawyers have years of experience defending the rights of injured Texans. We are committed to providing all of our clients with the high-quality, personalized representation they deserve. Contact us today to schedule a free, no-obligation consultation with a knowledgeable rear-end accident lawyer in Houston.
What Are Some of the Most Common Injuries Sustained in Rear-End Accidents?
Rear-end accidents range from minor fender benders in parking lots to catastrophic collisions on major highways. They can also result in a wide variety of injuries. The more severe your injuries, the more compensation you will be entitled to through a personal injury lawsuit. Some common injuries sustained in rear-end accidents include:
Neck injuries – The most common type of neck injury sustained in rear-end crashes is whiplash. This soft-tissue injury occurs when a strong jolt causes the head and neck to swing back and forth in a motion resembling the cracking of a whip.
Back and spine injuries – Some of the most serious injuries we see in car accidents, including those involving rear-end collisions, occur along the back and spine. In some cases, a spinal cord injury (SCI) can result in full or partial paralysis.
Brain injuries – These injuries occur when a jolt or blunt trauma to the head causes injury to the brain. Some common forms of brain injury include contusions, which are caused by ruptured capillaries in the brain, and concussions, which result in temporary unconsciousness or confusion.
Internal injuries – This class of injuries includes things like internal bleeding and organ damage. Though they can be hard to detect visually, internal injuries can be very serious, especially if they are not treated in a timely manner.
Chest injuries – Injuries to the chest are often caused by airbags. Though these devices can be lifesaving, they can also lead to serious injuries when they deploy, including things like broken ribs and collapsed lungs.
Facial and dental injuries – If you are suddenly hit by a following driver, the force of the impact may cause your head to fly forward. If you hit your wheel or dashboard, you may suffer serious injuries to your face and teeth.
How Do You Establish Fault in a Rear-End Accident?
Proving fault in a rear-end accident normally requires proving that someone was negligent, meaning that they failed to take reasonable care to avoid a crash. In some cases, liability may also be established by proving negligence per se, which requires proving that the at-fault driver caused the accident by violating a law or regulation put in place to keep roads safe.
Either way, plaintiffs must establish liability by a preponderance of the evidence. In plain language, this simply means proving that the defendant was more likely than not responsible for the accident. Relevant evidence may include:
Police accident reports
Photos and videos of the crash site
Footage from traffic and surveillance cameras
Testimony from eyewitnesses
Testimony from accident reconstruction specialists, traffic engineers, doctors, and other reliable experts
Cellphone, GPS, and traffic signal logs
Medical treatment records
Is the Driver Following Always at Fault?
In many cases, rear-end accidents are caused by the following driver. Further, because they have the advantage of looking ahead in traffic, there tends to be a strong presumption that following drivers are better positioned to avoid a collision.
Legally speaking, however, following drivers are not automatically liable in the event of a rear-end accident. Injured plaintiffs must still prove liability by a preponderance of the evidence. Ultimately, numerous factors may conspire to give rise to a rear-end accident, including things like:
Distracted driving
Intoxicated driving
Tailgating
Speeding
Failure to adjust to road conditions
Ignoring traffic signs and signals
Failure to yield the right-of-way
What If I Was Partly At Fault in a Rear-End Accident?
In Texas, you can pursue compensation even if you are partly at fault for a rear-end accident. Texas courts evaluate comparative negligence (also known as "proportionate responsibility") when determining liability in car accidents, which means that injured victims who are partially responsible for a crash can seek compensation so long as their share of fault is 50 percent or less.
However, the amount of compensation they are entitled to will be reduced proportionately to their degree of fault. If this number rises above 50 percent, their right to seek compensation is eliminated entirely. Because reducing responsibility for an accident to a clean percentage can be difficult and may turn into one of the most contested issues in a case, it is important to work with a skilled attorney who can push back against exaggerated allegations of fault from the other driver.
What Compensation Can I Receive Through a Rear-End Accident Lawsuit?
If liability is successfully shown, the at-fault party may be ordered to pay you significant compensation for your injuries and losses. The specific amount will vary based on their extent and severity. At Fleming Law, we can help you pursue compensation for things like:
Medical costs related to treating your injuries
Lost wages if you miss work due to your injuries
Loss of future earning capacity if your injuries result in a long-term disability
Physical pain and suffering
Emotional distress
Cost of repairing or replacing personal property
How Long Do I Have to File My Rear-End Accident Lawsuit in Texas?
In Texas, injury victims have two years from the date of a rear-end accident to file a lawsuit against an at-fault party. If you file suit after the two-year deadline, the presiding judge will most likely be forced to dismiss your case, thereby destroying your right to pursue compensation in civil court.
In turn, your inability to seek compensation in court will also destroy your leverage when negotiating a settlement with the at-fault party. To avoid these consequences, speak to an injury attorney as soon as possible after being involved in an accident.
Contact a Houston Rear-End Accident Lawyer
If you were injured in a rear-end accident at little to no fault of your own, do not hesitate to consult with an experienced attorney. At Fleming Law, we have decades of experience helping injury victims in Houston and throughout Texas fight for the compensation they deserve. Contact us today to learn more in a free, no-obligation consultation.

Rear-ended in an accident? Find out your rights now?