Houston T-Bone Accident Lawyer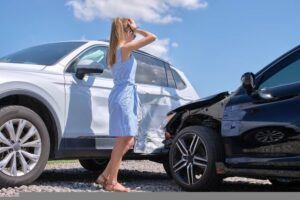 Occupants of the vehicle struck in a T-bone accident are extremely vulnerable to catastrophic injury and death. According to the Insurance Institute for Highway Safety (IIHS), these accidents accounted for 23 percent of passenger vehicle occupant deaths nationwide in 2020. In total, T-bone accidents resulted in 5,475 deaths in that year alone.
If you were injured in a T-bone accident, Fleming Law is a phone call away and ready to defend your right to full and fair compensation from the at-fault party. We will thoroughly investigate your accident, gather all available evidence, and build the strongest case possible on your behalf. Contact us today for a free, no-obligation consultation with a Houston T-bone accident lawyer.
What is a T-Bone Accident?
In a T-bone accident, the front end of one vehicle crashes into the side of another vehicle at a right angle resembling the letter "T," hence the name. These accidents are also sometimes known as broadside collisions or simply side-impact collisions. Common causes of T-bone accidents include:
Distracted or drowsy driving
Driving under the influence
Running red lights or stop signs
Failure to yield the right-of-way
Improper merging
Improper left turns
Speeding
Poor road conditions
Inclement weather
Why are T-Bone Accidents So Dangerous?
A T-bone accident can be incredibly dangerous, especially for vehicle occupants on the same side as the point of impact. The reason is simple. Whereas the front and back of most vehicles provide significant insulation from the full impact of a front-end or rear-end collision, the sides of nearly all passenger vehicles provide very little insulation in a broadside collision. The only things between occupants about to be struck and the oncoming vehicle are their car doors and windows.
This leaves occupants in the side-impacted vehicle extremely vulnerable to severe injury and death. The numerous injuries they may sustain include:
Head and neck injuries
Facial and dental injuries
Seatbelt and airbag injuries
Internal bleeding and organ damage
Dislocated, fractured, or broken bones
Lacerations and puncture wounds
Soft tissue strains, sprains, tears, and bruises
"Road rash" and other burns
Permanent scarring and disfigurement
Amputation and loss of limb
Traumatic brain injuries (TBIs)
Spinal cord injuries (SCIs), including partial or total paralysis
Psychological trauma, such as post-traumatic stress disorder (PTSD)
How Is Fault Determined in a Houston T-Bone Accident?
The driver of the vehicle that strikes the side of another vehicle is not automatically responsible for the collision. Instead, the primary question when determining fault in a T-bone accident is normally, "Who had the right-of-way?" Two drivers cannot have the right-of-way at the same time, and whoever improperly failed to yield their turn would normally be responsible for the crash.
Sometimes the answer to the question can be easily answered, but in many cases it may be less clearcut. Either way, you will need evidence to substantiate your case, which may include things like:
Police accident reports
Photos and video footage of the aftermath
Footage from nearby surveillance or traffic cameras
Evidence of road and weather conditions
Data logs showing the status of a traffic light at the time of the accident
Cell phone and GPS records from the time of the accident
Evidence of faulty brakes, turn signals, airbags, and other relevant vehicle parts
Testimony from reliable witnesses
Testimony from experts, such as doctors, traffic signal engineers, and accident reconstruction specialists
What Compensation Is Available Through a T-Bone Accident Claim?
If you were injured in a T-bone accident at little to no fault of your own, you could seek compensation for both the economic and non-economic impact of your injuries and losses on your life. If you successfully prove that the other driver was at fault, they may owe you compensation for things like:
Hospital bills and other medical expenses you incur due to the accident
Incidental costs, such as out-of-pocket travel costs for doctor appointments
Lost wages due to missed time at work during recovery
Projected losses in future earning potential caused by permanent or long-term disability
Subjective losses, such as pain, suffering, emotional trauma, and diminished quality of life
What If Someone Dies as a Result of a Houston T-Bone Accident?
It goes without saying that money will never right to the wrong of a needlessly lost life. However, if you lost a loved one in a T-bone accident, your family may seek compensation through a wrongful death claim or survival action. Family members considering this option should keep in mind some important legal distinctions between these two causes of action.
On the one hand, a wrongful death claim seeks compensation on behalf of the deceased victim's family. For instance, surviving spouses, children, and certain other family members may be entitled to compensation for financial and personal losses, such as lost income the decedent would have contributed to the family, funeral and burial expenses, and the general loss of their companionship.
On the other hand, a survival action is a specialized type of personal injury claim that "survives" in the sense that it is not extinguished by the victim's death. Instead, a personal representative may bring a claim seeking compensation on behalf of the decedent's estate.
Anything the victim might have recovered had they survived the accident would go to the estate. The proceeds would then be distributed according to the decedent's last will and testament or, if they did not leave a will, according to laws of intestate succession.
Is There a Time Limit for Filing a T-Bone Car Accident Claim in Texas?
The statute of limitations in Texas gives you two years from the date of the accident to file a personal injury claim seeking compensation from the at-fault party, as well as two years from the date of death to file a wrongful death claim or survival action. These time limits come with very few exceptions, and failure to file before the deadline passes nearly always results in the dismissal of your case.
The elimination of your right to seek compensation in court will also have the collateral effect of destroying your leverage in out-of-court settlement negotiations. This is because the threat of a lawsuit incentivizes the at-fault party and their insurers to negotiate fairly. With this bargaining chip removed from your arsenal, they will instead be incentivized to make a minimal offer, and you will have little recourse but to accept.
Contact a Houston T-Bone Accident Lawyer
T-bone accidents are some of the most dangerous collision types we see. If you have questions about your rights after a T-bone accident in Houston, the dedicated legal team at Fleming Law is here to provide answers. We are committed to defending the right of injury of victims to full and fair compensation throughout Texas. If you were injured in a T-bone accident, call us today for a free consultation.