Most Common Causes of Car Accidents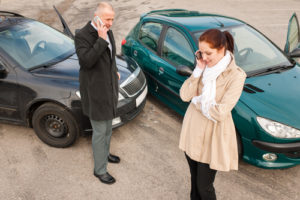 Car accidents can happen anytime and anywhere. In many instances, car crashes happen due to driver negligence. If you have been injured in a car accident due to someone else's careless or reckless driving, you need to contact a Houston car accident attorney soon as possible.
The Houston car accident lawyers at Fleming Law, have decades of experience with handling many types of car accident claims, and we understand the unique issues that these different types of crashes present. If you have been injured in a car accident that someone else caused, contact us to schedule a free and confidential consultation.
As we have seen through the years, some of the most common causes of accidents in Houston are:
Distracted Driving
Distracted driving is one of the leading causes of car accidents in Texas and throughout the country. In a recent year, distracted driving caused more than 96,000 crashes in Texas. In Harris County alone, law enforcement officers reported 12,027 distracted driving accidents, including 14 fatal ones and 191 crashes that resulted in suspected serious injuries.
While drivers can face many different distractions in the car, cell phones are the most common – and deadliest – distraction. Texting while driving, for instance, can drastically increase your risk of being involved in an accident. People who text while driving are 23 times more likely to be involved in a motor vehicle collision, according to a study by the Virginia Tech Transportation Institute.
Drunk Driving
Unfortunately, driving while under the influence of alcohol also occurs at an alarming rate in Texas. The Texas Department of Transportation reports that someone is killed or injured in a crash involving alcohol approximately every 20 minutes in our state. Unfortunately, Harris County has more total alcohol-related crashes than any other county in the state, with more than 3,000 DUI crashes in 2018 alone.
Alcohol and other drugs reduce the skills you need to operate a motor vehicle safely. According to the National Highway Traffic Safety Administration, drugs and alcohol can impair:
Judgment – Judgment is an activity that stores your knowledge and experience so you can draw on it quickly when you encounter a new problem. Alcohol and other drugs affect the areas of your brain that control judgment.
Vision – Your vision helps you to determine distance. Alcohol reduces your ability to judge distance, speed, and the movement of other cars on the road.
Reaction time – Drugs and alcohol slow your ability to process information and respond appropriately. Because alcohol is a depressant, it makes you tired and less alert to your surroundings.
Drowsy Driving
Drowsy or fatigued driving is an under-reported danger on the roadways of Texas. Many drivers cause accidents because they are simply too tired to operate their vehicles safely. Sleepiness can be similar to the effects of alcohol on a driver. Drowsiness slows reaction time, impairs judgment, decreases awareness, and increases your risk of an accident.
Speeding
The faster a car is going, the less time the driver has to react and avoid a crash by maneuvering or braking. Additionally, the higher the speed, the more stopping distance a vehicle requires. Often, even when a driver hits the brakes, the driver can't avoid getting into a crash. Speeding increases the force of impact, which reduces the ability of a vehicle's safety systems, such as airbags and seat belts, to prevent occupants from suffering severe or even fatal injuries.
Tailgating
Tailgating, or following too closely, is a common and dangerous driving habit. It is often the result of impatience, distracted driving, or road rage. Rear-end accidents caused by tailgating can result in whiplash injuries, head trauma, and other severe injuries.
Failure to Yield
Unfortunately, drivers often cause sideswipe and side-impact (or "T-bone") accidents when they fail to recognize that they have a duty to yield to another motor vehicle, motorcycle, bicycle, or pedestrian. These types of crashes often occur when drivers merge onto freeways, make left turns at intersections, go through pedestrian crosswalks and fail to notice yield signs.
Automotive Defects
Some accidents are caused by faulty or defective vehicle parts such as brakes, ignition systems, steering systems, airbags, and tires. A defect in an automobile or in its overall design can cause a crash or make injuries even worse. Unfortunately, the owner and driver of the vehicle may not be aware of the defect until it is too late. When a vehicle defect causes an accident resulting in injuries, the car manufacturer or designer may be held accountable through a product liability claim.
An emerging trend in this area of the law involves self-driving vehicle technology. For instance, if a driver has a vehicle such as a Tesla engaged in Autopilot, and the self-driving technology fails to operate properly, the manufacturer of the vehicle or the technological feature may be subject to liability rather than the driver. (Of course, in some situations, both the driver and manufacturer may share liability.)
Poorly Designed or Maintained Roads
Cracked pavement, potholes, roads that have water because of improper drainage, curves that are too sharp, and roads that are poorly marked are just a few of the common problems with roadway design and maintenance that can lead to an accident. When the road's design or maintenance has been negligent, you may be able to recover compensation from the government agency (or agencies) responsible for maintaining the road.
Contact a Houston Car Accident Attorney Today
If you have been injured in a car accident in Texas that was due to someone else's fault, you may be entitled to financial compensation. The Houston car accident lawyers at Fleming Law, are prepared to fight for you and your family. Fleming Law has assembled a top-notch legal team dedicated to protecting your rights and pursuing all compensation that you are entitled to receive following your car accident. To schedule a free initial consultation with our skilled Houston car accident lawyers, contact us today or reach us online.