Pasadena Brain Injury Lawyer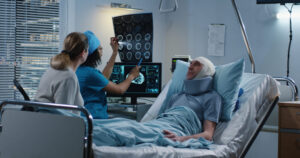 While all accidents have the potential to be life-altering, few injuries have the overwhelming and far-reaching consequences of a brain injury. When the brain suffers harm, a person can suffer dramatic transformations of their cognitive, emotional, and physical capacities. The outcome can devastate a person's ability to work and enjoy their life. On top of all this, the injured individual may also suffer overwhelming financial ramifications.
When a brain injury happens due to another party's negligence, the victim deserves justice. Yet the process of filing a compensation claim can be challenging, even at the best of times. It can feel impossible if you are coming to terms with the effects of a traumatic brain injury. That's why the attorneys at Fleming Law are here to handle your claim for you. Let our experienced Pasadena brain injury lawyers fight for the compensation you deserve. Call us today or contact us online for a free consultation to learn more about how we can help you.
What Are Some Symptoms of a Brain Injury?
While many brain injuries have symptoms in common, they can manifest in vastly different ways. Some common symptoms of a brain injury include:
Headaches or migraines
Dizziness
Blurred vision
Nausea
Slurred speech
Confusion
Memory loss
Mood changes or swings
Difficulty concentrating or thinking clearly
Sleep disturbances
Seizures
If you suffer any of these symptoms after an accident, visiting a medical professional is crucial. However, a brain injury might only present signs days after the accident, so you should see a doctor immediately after any blow to the head. Swift medical attention can detect hidden injuries, improving the chances of recovery.
Are There Different Types of Brain Injuries?
There are several classifications of brain injuries, including:
Concussions – Caused by a bump or blow to the head, which can lead to short-term dysfunction
Contusions – Bruising of the brain tissue
Diffuse axonal injuries – Damage to neurons and their connections
Penetrating injuries – When an object pierces the skull and enters brain tissue
Hematomas – Bleeding in the brain that causes clots
While some of these injuries might seem more serious than others, any harm to the brain can lead to life-altering consequences.
How Are Brain Injuries Medically Treated?
Treatment of brain injuries depends largely on the severity and nature of the TBI. Your doctor may employ or recommend the following interventions:
Imaging tests like CT scans, MRIs, or X-rays to assess the damage
Medications to control pain, swelling, seizures, mood disorders, etc.
Surgery to repair skull fractures or stop bleeding
Monitoring vital signs and brain activity
Cognitive rehabilitation and physical therapy
Assistive devices like wheelchairs, braces, or communication aids
Long-term care in a rehabilitation center
These interventions often come at a significant expense. If another party has caused these losses, you should not have to suffer the financial consequences. A skilled personal injury attorney can fight for the compensation you deserve.
What Are Some Common Causes of Brain Injuries?
Some accidents that frequently lead to brain injuries include:
Car crashes – Impact with the steering wheel, dashboard, or windshield
Truck crashes – Greater force can cause severe TBIs
Motorcycle crashes – A motorcyclist's head is vulnerable even with a helmet
Slip and fall – Impact of the head striking the ground
Workplace accidents – Being struck by an object or falling from heights
Sports impacts – Hard hits to the head
Whatever the cause, you have the right to hold the at-fault party accountable for your losses.
How Do I Prove Fault for My Brain Injury?
Proving fault for a brain injury can be challenging. Even if you feel sure about whose negligence caused your losses, the at-fault party's insurance company will attempt to deny culpability to minimize your claim. An experienced Pasadena brain injury attorney will have the knowledge, skills, and resources to craft a robust claim on your behalf. They can:
Thoroughly investigate the accident and its causes
Work with accident reconstruction specialists, if applicable
Interview witnesses who saw the accident happen
Consult with medical experts to prove the other party's negligence caused your injury
Calculate the full value of your losses
Negotiate aggressively with the insurance company to recover a fair settlement
What Damages Can Be Recovered for My Injury Claim?
Texas law permits injured individuals to recover compensation for the losses they have suffered due to another party's negligence. Depending on the specific nature and circumstances of your brain injury, you may be able to recover:
Medical expenses – Ambulance services, diagnostic tests, specialist appointments, surgical procedures, prescription medications, medical devices
Lost income – Past and future earnings you would have made if the injury had not occurred
Living requirements – Modifications you require for your home or transportation, the cost of services such as household chores or childcare if you cannot perform them
Pain and suffering – Compensation for the intangible physical and emotional consequences of your injuries
Do I Have a Time Limit for Filing a Brain Injury Lawsuit?
For most personal injuries in Texas, the statute of limitations allows injured people to file legal action within two years from the accident date. This timeline may differ depending on the circumstances of your case. Speak to an experienced Pasadena personal injury attorney as soon as possible to avoid missing any statutory deadlines.
Contact a Pasadena Brain Injury Lawyer
For over 30 years, the attorneys at Fleming Law have fought for the rights of injured Texans. We understand how challenging life can become after suffering a traumatic brain injury, and we are passionate about helping make things right. Our team includes board-certified specialists who have recovered millions of dollars in damages on behalf of our clients. We are ready to put our knowledge and skill to work for you too.
If you or someone you love has suffered a brain injury in Pasadena due to another party's negligence, let Fleming Law fight to recover the compensation you deserve. Call our offices today or contact us online for a free consultation to learn more about your legal options.