Hurt in a Truck Accident, Caused by Improperly Secured Loads in Houston?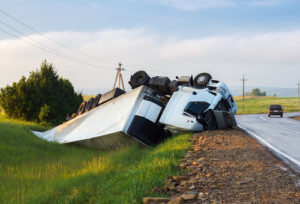 Many people in Houston are injured and killed by truck drivers who have not secured their loads properly. When this happens, cargo or debris can fall off the truck into the highway and injure other drivers. Securing cargo in an enclosed trailer or a flatbed trailer must be done properly to ensure the safe transportation of the articles and to ensure the safety of the others on the road. Many in the trucking industry would agree that your load is only secure when it will NOT move, anything less is not secure.
Trucks that lose their loads on highways around Houston and throughout Texas can cause serious truck accidents, if you were injured in an accident involving a truck you will want to understand the rules and regulations related to securing a load. Improper cargo securing is one of a number of factors that lead to truck accidents. Other factors include:
Improper load distribution. This can cause the truck to turn over on a sharp turn and cause an accident.
Cargo that is not fully secured. In addition to falling off the truck, cargo can shift and result in a turnover accident.
I was injured when a truck lost its load and caused an accident, should I file a claim?
Securing Cargo on a Flatbed Trailer
Trucks will carry loads of many different types of cargo. Articles can be of varying height, length, width, and weight. Some of the items that you commonly see on a flatbed that must be secured to prevent car accidents are;
Pallets of bags of cement
Drill pipe and casing
Lumber
Heavy equipment such as bulldozers, front-end loaders, and excavators
Trucking companies use "Tiedowns" to secure the load itself and prevent loss of cargo or a turnover accident. Tiedowns generally go across, passing over the article it is securing, and are tightly fitted and secured on both sides of the flatbed. Tiedown materials in many cases are synthetic webbing (polyester) or chains of different grades. Companies that transport heavy machinery will typically use chains to secure their loads. Because of the weight of heavy machinery, such as bulldozers and front-end loaders grade 70 (G70) grade 80 or grade 100 chains will be used. Accessories such as "ratchets" and "boomers" are used to secure tie-downs to anchor points on both sides of the flatbed. If the tie-downs are not used properly, truck accidents happen.
Rules for Number of Tiedowns to Prevent Truck Accidents
To reduce the possibility of a truck accident there are defined rules for the number of tiedowns that must be used when securing a load. These rules depend on the length of the item and its weight. The rules are as follows;
1 tiedown if the length of the item is 5 feet or less and weighs less than 1,100 pounds
2 tie-downs if the length of the item is 5 feet or less and weighs more than 1,100 pounds
2 tie-downs if the length of the item exceeds 5 feet but is less than 10 feet, regardless of what the item weighs
If the length of the item exceeds 10 feet, you must use 2 tie-downs for the first 10 feet and one forever additional 10 feet or a fraction of 10 feet
If you were injured in an accident when a truck lost part of its load the driver may not have followed the rules and regulations for tie-downs. Contact our truck accident lawyers in Houston Texas for a free consultation.
Special Rules for Heavy Equipment to Prevent Truck Accidents
All heavy vehicles, including big rig 18-wheeler trucks and equipment and machinery weighing 10,000 pounds or more are subject to special rules when it comes to securing a load. In Texas heavy equipment such as bulldozers, front-end loaders, haul trucks, and excavators are used to develop highways or excavate and prepare land for new development.
Tiedown requirements to prevent accidents
At least 4 tie downs are required each with a working load limit of 5,000 pounds
The combined working load limit of the tie-downs must be at least 50% of the weight of the cargo
If the heavy equipment is fitted with a shovel (in the case of an excavator) this must also be secured with an additional tiedown.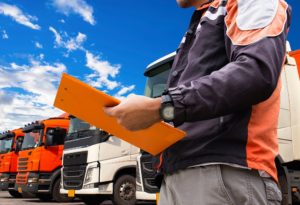 Pre-trip Inspection:  Accidents caused by faulty equipment are often preventable when the truck driver completes his or her required pre-trip inspection. This can help identify equipment that is damaged or worn to the point of dangerously increasing the possibility that a truck accident will occur.
Truck drivers are trained on conducting a pre-trip inspection of the truck and trailer, checking the brakes, suspension, headlights, taillights, and many other things. If they are hauling articles on a flatbed they must also check that the load is properly secured and that the materials used to secure the load are not damaged.
Loose load items – when transporting heavy equipment on a flatbed truck, especially front-end loaders, bulldozers, and excavators, drivers need to ensure that loose load items like gravel, stone, sand, and dirt are removed from wheels and tracks of the equipment and from the flatbed deck. When driving on the highway these "loose" items can smash the windshields of other cars and trucks, causing accidents and serious injury to drivers and passengers.
When a truck driver does not secure his load properly severe injuries can result. Often, trucking companies allow their drivers to take shortcuts in securing their cargo. This can cause equipment, debris, or other material to fall off trucks causing injuries to innocent people. When such an accident happens, company agents might try to cover up the lax procedures used to secure the load. It is important that you contact the Houston truck accident attorneys at Fleming Law, P.C., to protect your rights from the start. Our lawyers are located in downtown Houston, Texas and we always give free consultations to discuss your case.