Should I Seek Medical Attention After My Texas Motorcycle Accident?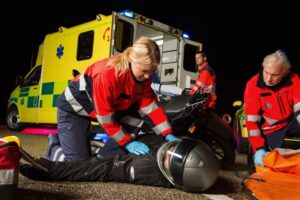 Some motorcycle accidents lead to significant injuries that obviously require immediate medical attention. But in other instances, the consequences are less clear. Your injuries could seem minor at first but become major problems later on. That's why some people wonder, "Should I seek medical attention after my motorcycle accident?" The answer is clear: yes.
You need to see a doctor for a thorough exam as soon as you can after a motorcycle collision. It's a good idea to document your healthcare appointments and any procedures you undergo. If you don't get treatment and later pursue a personal injury claim, an insurance company could argue that you weren't seriously injured and don't deserve compensation. Unfortunately, that could mean you don't get the resources and support you need.
After a motorcycle accident, get the medical care you need. Then, reach out to Fleming Law to talk to a lawyer. One of our Texas motorcycle accident attorneys can answer your questions so that you have the confidence and peace of mind you deserve. We offer free, no-obligation consultations. Whether you were injured in Houston or anywhere in Texas, we're ready to serve you.
For your free consultation, call us toll-free 24/7 or use our online form to get in touch.
How Long After a Motorcycle Accident Can You Go to the Doctor?
It's always best to go to a doctor as soon as you can following a motorcycle accident. But if you couldn't go right away, it's not too late. Some injuries take time to develop. If you experience any new pain or symptoms of an injury, get care from a medical professional as soon as possible.
Keep detailed records of your visits and copies of your bills. These could be important evidence for your attorney and the insurance companies. It's important to follow the instructions and treatment plan that your doctor recommends. Doing so shows that your injuries were serious, and you're taking appropriate steps to heal them.
If you never visit a doctor or seek medical care, it can cause problems for you later. The other driver's insurer might use this information to fight your right to compensation, deny your claim, and avoid taking responsibility for what you've suffered. Following a motorcycle crash, get the care you need and save records of all the treatment you receive.
What Are the Most Common Types of Motorcycle Injuries?
Motorcycles are a great way to travel, but they come with significant dangers. Riders have little protection, so if they wind up in an accident, they can be seriously injured.
Motorcycle riders can suffer injuries, such as:
Broken bones
Road rash and abrasions
Spinal cord injuries
Cuts and bruising
Bleeding and internal injuries
Dental damage, including loss of teeth
Scarring and disfigurement
Loss of limbs
Paralysis
Torn muscles and ligaments
Joint damage
Burns
Make sure that you get immediate medical care after a motorcycle accident, even if you think you're okay at first. Doctors can identify hidden and internal injuries that could cause you problems later on. Internal injuries can be severe and even deadly. By seeking and receiving medical care after a motorcycle crash, you protect your health, your life, and your claim for compensation from whoever hurt you.
What Is the Most Common Cause of Motorcycle Accidents?
When it comes to motorcycle accidents, the most common factor is other drivers' failure to notice the motorcyclists. Negligent drivers of cars and trucks often make left-hand turns in front of oncoming motorcycles or pull out in front of them, causing devastating crashes. Inattention can also lead drivers to strike motorcyclists from behind or open the door of a parked car in front of a rider. The result of these mistakes can be dangerous or even lethal for bikers.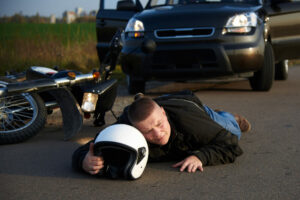 Can You Get PTSD from a Motorcycle Accident?
Yes, you absolutely can get post-traumatic stress disorder from a motorcycle accident. Motorcycle collisions can be violent, painful, and destructive events. Such an experience can lead to physical injuries and psychological illnesses such as anxiety, depression, and other serious problems. These conditions can cause long-term health problems, so it's essential to seek treatment for them.
If you've suffered PTSD because of a motorcycle accident, you might be entitled to compensation. A settlement from the at-fault driver's insurance company could cover the cost of your treatment and an amount to represent your emotional pain.
A motorcycle crash lawyer with Fleming Law can investigate how the accident occurred, determine who might be at fault for your crash, and then pursue compensation for any PTSD you experienced.
Where to Turn for Legal Help After a Motorcycle Crash
After a motorcycle crash, turn to an experienced law firm with seasoned lawyers for help. At Fleming Law we can review your case, help you understand your options, and work to pursue the compensation you deserve. From the start of your motorcycle crash case to the finish, we are ready to stand up for your rights and interests.
Our Texas motorcycle crash law firm can help you by:
Explaining your rights to pursue compensation
Answering any questions you have
Identifying the deadlines that apply to your case
Gathering the medical records and other documents to prove your claim
Working with experts to determine what caused the motorcycle crash
Negotiating aggressively on your behalf
Pursuing a motorcycle crash lawsuit for the compensation you deserve, if necessary
Experience matters both on the road and in the courtroom, so make sure to choose a motorcycle accident law firm you can trust.
After an Accident Talk with Fleming Law
If you've been injured in a motorcycle accident, seek medical attention, then speak with Fleming Law as soon as you can. Our experienced motorcycle crash attorneys have helped bikers throughout Texas, and we're here for you, too. No matter the circumstances of your crash, we want to stand up for your rights, help you understand your options, and advocate for the financial compensation you deserve.
For your free consultation about how we can help, call us or contact us online now.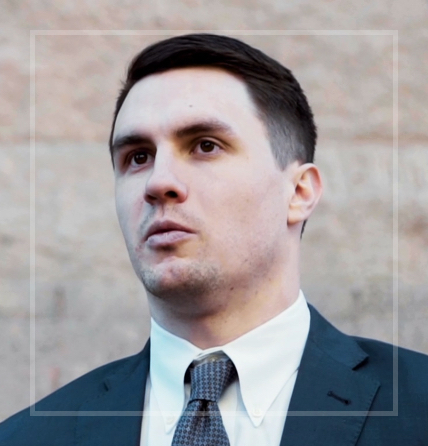 Nicholas P. Fleming focuses his practice in the area of civil litigation. As a skilled personal injury attorney, he handles a broad range of cases including motor vehicle accidents, premises liability, workplace accidents, and wrongful death. He is licensed to practice by the State Bar of Texas and is a graduate of the South Texas College of Law, earning his J.D. in 2017. Nicholas prides himself on providing personalized service to his clients, who are often facing extremely stressful situations.