Steps to Take Immediately Following a Motorcycle Accident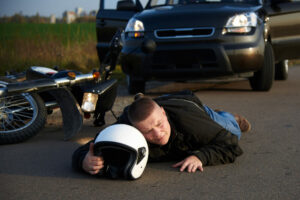 A motorcycle accident can be shocking and disorienting for the rider involved in the crash. But even in the hours and days following a motorcycle accident, a rider should be taking certain steps to protect their health and their legal rights. Taking these steps will put the injured motorcyclist in the best position to seek compensation from the at-fault driver.
If you've been injured in a motorcycle accident in Houston, reach out to Fleming Law, P.C., today for a free initial case evaluation. An experienced personal injury lawyer can review the details of the accident and discuss the legal options available to you following a Houston motorcycle accident. Don't wait to learn more about the financial recovery you may be entitled to seek from the motorist at fault for the injuries you've suffered.
Check for Injuries
Although the shock of being involved in a motorcycle accident can cause an adrenaline rush and dampen some sensations of pain, you should examine yourself for any possible injuries. Check for any abrasions, lacerations, dislocated joints, or broken bones. Did you hit your head? Try to notice if you feel pain anywhere in your body. If you can safely walk, you should check on the other individuals involved in the accident. You should also seek medical attention as soon as possible, even if you feel fine. Many injuries, such as concussions can show the way after an accident occurs.
Call 911
When you're involved in a motorcycle accident, you are likely to suffer some injury or damage to your motorcycle. You need to report the accident to the authorities. Call 911 and request an ambulance if you or anyone else has suffered serious injuries that require immediate medical attention. Request an ambulance for each injured person who needs emergency treatment.
When EMS responds to the scene, make sure to get checked out by paramedics to determine if you have any injuries. The responding law enforcement officers will create an accident report that will document the basic facts of the accident. Ask the officers when you can obtain a copy of the accident report.
Take Photos and Collect Evidence
From a safe location, try to take photographs of the accident scene before the vehicles are moved. The accident scene photos should include road lines and traffic signs, any skid marks on the road, damage to the vehicles involved in the crash, and any injuries you may have sustained. The photos may offer useful evidence.
If any bystanders witnessed the accident, ask them to provide a short written or recorded statement or to provide you with their contact information. It may be helpful to contact the eyewitness to get a statement about the accident at a later date.
Exchange Information
In addition to reporting the accident to the authorities, you are also legally required to exchange information with the other motorists involved in the accident. Make sure to get the name, contact, and insurance information of every motorist involved in the accident. You can save time by taking a photo of the driver's license and insurance registration card. You may also want to note the make, model, color, and registration number of each vehicle in the accident.
If a motorist refuses to share insurance or vehicle registration information, wait for the police to collect the information.
Contact Your Insurance Company
In the days following the accident, you should notify your insurance company that you were involved in an accident, even if you don't believe you caused the crash. The state of Texas requires all drivers including motorcyclists to show financial responsibility for any accident they cause. Most people meet this legal requirement by purchasing liability insurance. Insurance policies typically require policyholders to report any accident they are involved in within 10 to 30 days following the accident.
Your insurance card should have a number to call to notify your insurer of the accident. Timely notification is required to file claims for compensation under coverages you may have, such as med-pay or personal injury protection coverage, comprehensive/collision coverage to pay for repairs to your motorcycle, or uninsured/underinsured motorist coverage if the at-fault driver does not have insurance or doesn't have enough insurance to fully compensate you for your losses.
Get Legal Help
If you have been injured in a motorcycle accident in Harris County and another motorist was at fault, you should talk to a motorcycle accident attorney at Fleming Law, P.C. A motorcycle accident attorney can review the facts and circumstances of your accident and provide an overview of your legal options for seeking compensation for any injuries or losses you may have sustained in the accident.
Talking to an attorney will help you understand whether you have a valid motorcycle accident injury claim and the steps to take to pursue a claim for compensation. Getting legal help as soon as possible after a motorcycle accident increases the likelihood that the attorney can find and preserve evidence from the accident scene before it is lost. Your attorney will have more time to investigate the accident and prepare a strong, persuasive case on your behalf.
If you are contacted by insurance adjusters after the accident, you can have your attorney communicate with the insurance company and negotiate on your behalf to make sure that any settlement offer from the insurer provides fair and full compensation. Don't provide a recorded statement to an insurance company without consulting a lawyer first. An experienced attorney will have an informed perspective about the fair value of the case based on an evaluation of the scope of your injuries and other losses.
If you've been involved in a Houston motorcycle accident and another motorist was at fault, turn to one of the best Houston motorcycle accident attorneys of Fleming Law, P.C., for a free, no-obligation consultation. Don't hesitate to learn about your rights and options for seeking financial recovery for your injuries and losses. Our attorneys will help you seek full recovery for your losses in a motorcycle accident.