Lawyers for Injuries Caused by Air Bags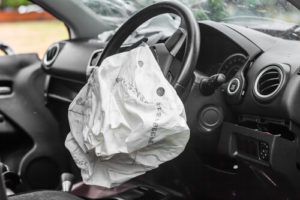 Houston Children are often injured in a car accident when their air bags deploy.
They can suffer injuries ranging from bruising to lacerations or scarring or death.
Air bags are life savers in many cases of car wrecks, however that does not mean that air bags cannot cause serious personal injuries.
The deployment of an air bag can be harmful to passengers depending on their height, age, and the point of impact. Eye injury and face burns are possible injuries due to air bag deployment.
This depends on the position the passengers head and air bag meet.
Air bags also release chemicals when they are deployed. These chemicals can burn and leave scars on someone's face. Inhaling the chemicals and dust after the air bag is deployed can be harmful, especially if there is little ventilation in the car.
Air bags also cause injuries when they deploy at times when they shouldn't or when there is a failure to deploy. In those events, the vehicle manufacturer is generally liable for any injuries sustained as a result of defective product or failure to warn.
"The injuries caused by air bags are often worse than the collision itself" 
If this has happened to you or a loved one, call our attorney for a car accident in Houston, today!
Michael P. Fleming Board Certified Personal Injury Lawyer.
I sustained serious injuries from the air bag. What should I do?
Takata Airbag injuries and deaths around the country have lead to an investigation by the National Highway Traffic Safety Administration ("NHTSA") as well as recalls by numerous automobile manufacturers.
Takata airbags are found in many car brands including, Honda, Ford, Dodge, Chrysler, General Motors, Acura, Nissan, Mazda, Subaru, Toyota, Lexus and Infinity. The NHTSA investigation is centered around deaths that have occurred after Takata airbags deployed during an accident and metal fragments shot out and killed the drivers.
The risk to Texas drivers and occupants is so great that the government has set up websites where consumers can enter in their car's vehicle identification number (VIN) and see if it is subject to a recall. Furthermore, folks that have bought a used car can enter the VIN on the websites and see if their car has had the airbag replaced or not. Those websites are www.Safercar.gov and www.nhtsa.gov
If you have been injured or had a loved one killed by an airbag during an accident, contact defective airbag lawyer Fleming Law today for a free consultation. You might be entitled to significant compensation from Takata and the car manufacturer.
If you or a loved one are injured by an air bag in a car accident, the at-fault driver is still responsible for your injuries even those caused by the air bag.
If you have been injured in a car accident – whether by an airbag or not – you should immediately contact Houston Lawyer Fleming Law today for a free case evaluation.
Arm and Wrist Injuries Caused by Airbags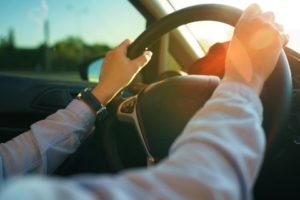 The hands are one of the most useful parts of the human body. We all depend on our hands, arms and wrists to a great extent. This is why injuries to these vital parts can not only be very painful but also extremely frustrating.
In fact, depending on your profession, if you are a surgeon, pianist, or violinist, an injury to your arms or wrist can spell the end of your career.
Arm and wrist injuries can be caused by a variety of factors. One of the most common causes is the inflation of airbags.
Generally, when a collision occurs, car airbags inflate to protect the occupants of the car. However, since most of us usually have one or both hands on the steering wheel when driving, it is easy for the airbags to cause serious injury when they inflate.
Apart from the severe arm and wrist injuries that can be caused by airbags, other causes of these injuries include:
Impact with hard parts of the car during collision;
Pinning of arms and hands by objects after collision;
Being thrown out of the car during impact;
Jarring of the arms and wrists during impact with another vehicle
Common Arm and Wrist Injuries
A lot of painful injuries can result from sudden inflation of automobile airbags. These can include:
Fractured or broken wrists, knuckles, broken fingers, or crushed hands;
Sprains of the arm or wrist caused by stretched ligaments;
Partial or complete tearing of the ligaments;
Dislocation of joints;
Tendon damage caused by inflammation of the tendons.
If left untreated, this can lead to Tendonitis.
I fractured my wrist when my airbags deployed after an accident. Do I need a lawyer?
Can You Take Legal Action?
Medical bills for arm and wrist injuries can set you back thousands of dollars. If your occupation requires the use of your hands, you can also lose thousands more in wages pending the time you are able to work again and much more, if you are unable to use those hands again.
You have the ability to pursue compensation in this situation. Depending on the circumstances of the accident that caused your arm or wrist injuries, you may be able to sue the other driver or the producer of the airbags that caused the injury.
If you were in a collision with another driver who you believe is at fault, you may be able to file a lawsuit against that driver. In order to succeed in your claim, though, you would need to show that the other party was at fault. You can show this by bringing evidence that he or she drove recklessly or carelessly.
If the airbags inflated themselves without any impact or because of any other operational malfunction, you could hold the manufacturers of the airbags responsible under Texas product liability law. They have a duty to ensure that the airbags conform to the best safety and operational standards. If you have been injured because they failed to live up to this duty, you can hold them responsible.
Have Questions? Speak to a Houston Car Accident Injury Lawyer Today
If you were badly injured in a collision after your airbags deployed, you need to get in touch with the Houston personal injury lawyers at Fleming Law today. We offer free consultations 737-201-0543.
Facial Injuries Caused by Airbags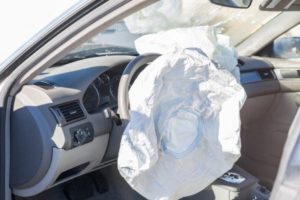 Although the airbag was originally designed as a safety mechanism for protection, it has also been responsible for several minor, severe, and even fatal accidents. Airbag injuries are rare, but they are often severe, and having to experience one can be traumatizing.
How Airbag Injuries Occur
Airbag injuries usually occur when airbags deploy incorrectly. The most common cause of incorrect deployment is a crash sensor malfunction. Crash sensors are placed throughout the car. These crash sensors are placed in cars to detect if the vehicle has been involved in a crash.
When the sensors sense a crash, they send signals to the airbags causing them to deploy. If a crash sensor malfunctions, its effects on the airbags are numerous.
Some of these effects include:
Deployment of the airbag at the wrong time, such as when you are driving down the highway;
Deployment in a low-impact crash, which may cause injury;
Failure to deploy the airbag in the occurrence of a crash;
One air bag might deploy, and the other one might not;
Late deployment of the airbag. If an airbag is deployed even a second late, it can cause severe injuries to your head and neck.
I was injured when an airbag deployed and hit me in the face. Who can I hold responsible for this?
Types of Facial Injuries Caused by Airbags
Your face is the most injury-prone part of your body when your vehicle crashes. The purpose of the airbag is to prevent your face from direct impact with the windshield. In the course of protecting your face, the force of the airbag may be too much, causing injury to parts of your face like your eye and nose. These facial injuries range from:
Damage like permanent or temporary blindness in one or both eyes. Eye injuries like retinal tears or retinal detachment resulting from a sudden deployment of the airbag.
Fractures in the skull, the eye socket, or the nose.
The chemical reaction that produces the hot gases that inflate the airbag can cause burns to the face, which may be disfiguring.
The speed at which the airbag deploys can also cause impact burns on your face.
These types of injuries can take weeks, months, or even years to fully heal (if ever). That means you could be forced to incur thousands of dollars in medical expenses and time away from work. This is why it makes sense to pursue a civil claim after an accident.
If you suffered an airbag-related injury, make sure you do not throw away the airbag or its parts when you are involved in an auto accident. Having the airbag itself can prove to be invaluable evidence against the airbag manufacturer, if it is found to be defective.
Speak to a Houston Airbag Injury Lawyer Today
If you were seriously hurt in a collision after your airbags deployed, you need to get in touch with the best car accident attorney in Houston at Fleming Law today 737-201-0543. We offer free, confidential consultations. During the consultation, you will get the chance to speak to an attorney about what exactly happened and whether it makes sense to move forward with a claim against the airbag manufacturer, the negligent motorist, or multiple defendants.