Car Accident Attorney in Texas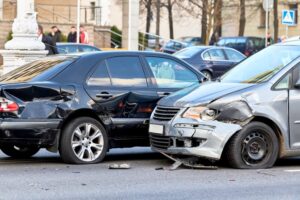 If you were injured in a car accident in Texas that someone else caused, you could be owed compensation for your medical bills, lost wages, and pain and suffering. However, you might feel overwhelmed by the idea of filing a claim to demand compensation for your losses. After all, insurance companies are not concerned about your well-being. They are interested in protecting their own bottom lines, which often means undervaluing or denying valid injury claims.
Fortunately, you do not have to pursue this compensation alone. At Fleming Law, our legal team has more than 30 years of experience helping car accident victims take on the insurance companies and win. We want to put this to work for you. Contact us today for a free case review to discuss your legal options with an experienced Texas car accident lawyer.
One of the Best Car Accident Lawyers in Texas
Our car accident attorneys work for you, not big insurance companies. We're committed to helping you recover maximum compensation for your injuries. We can evaluate your case, investigate the circumstances of the accident, and negotiate for a generous but fair settlement. We care about your well-being and want to deliver the results you deserve.
Don't let the insurance companies take advantage of you. Contact Fleming Law today for a free consultation with a car accident lawyer in Texas.
What Types of Car Accident Cases Do We Represent?
At Fleming Law, our Texas car accident attorneys can handle a variety of car accident cases, including cases involving:
Rollover accidents
Rear-end accidents
Head-on collisions
Multi-car accidents
Side impact crashes
Sideswipe accidents
Hit-and-run collisions
What Are the Most Common Injuries from a Car Accident?
Even a minor accident can cause severe physical and emotional harm. Some of the most common injuries from Texas car accidents include:
Traumatic brain injuries (TBIs)
Paralysis
Other neck and spinal injuries
Amputation
Broken bones
Soft tissue injuries
Organ damage
Internal bleeding
Burns
Contusions
Lacerations
What Are the Top Causes of Most Car Crashes?
Most car accidents involve multiple contributing factors. Some of the most common causes of car accidents in Texas include:
Distracted driving
Intoxicated driving
Fatigued driving
Speeding
Unsafe lane changes
Failure to yield
Reckless driving
Tailgating
Bad road conditions
Mechanical defects
What Steps Should I Take After a Car Accident?
Taking the following steps after a car accident in Texas can protect your health and your legal rights:
Seek medical attention immediately.
Keep all future medical appointments.
Contact an attorney for guidance.
Stay off social media while your case is pending.
Keep a pain journal to document your recovery.
Hold onto all bills, receipts, and out-of-pocket expenses.
How Do I Know If I Have a Valid Case?
Determining whether you have a valid car accident case can be confusing, especially when you have your recovery to focus on. That is why the legal team at Fleming Law offers free, no-obligation case reviews. Our skilled Texas car accident attorneys can answer that question and discuss your legal options for recovering compensation in a safe and compassionate environment.
How Long Do I Have to File My Car Accident Claim?
In Texas, most car accident victims have two years from the date of a crash to file a lawsuit against the at-fault parties. However, certain cases have even tighter deadlines. If you wait too long to take legal action after a car accident, you could lose your right to demand compensation. A knowledgeable lawyer can help you identify important deadlines and keep your case on track from day one.
Should I Give a Recorded Statement to the Insurance Company?
You should never agree to give a recorded statement to an insurance company before speaking to a trusted lawyer about your situation. Most insurance companies try to advise that a recorded statement is a standard part of the claim process. However, you should know that their primary goal in demanding a recorded statement is to protect their interests – not yours.
Anything you say in a recorded statement could be used against you later in the claims process to diminish your compensation or deny your claim entirely. Even seemingly innocent statements like "I'm sorry" could jeopardize your claim, as insurance companies might interpret them as admissions of guilt. A simple mistake or oversight could also come back to haunt you if you accidentally make contradictory statements in the future.
If an insurer asks you to give a recorded statement, politely decline and refer the adjuster to your attorney. An experienced attorney can help you prepare a statement that protects your interests and provides accurate information without potentially damaging your case.
Should I Accept the Insurance Company's First Settlement Offer?
Accepting an insurance company's first settlement offer is rarely in your best interest. Insurance companies want to settle quickly for as little money as possible. This tactic makes their business more profitable since they can process more claims and pay accident victims pennies on the dollar. Most insurance companies hope you are desperate enough to accept a speedy settlement that is far less than your claim could be worth.
Before you accept any offer from an insurance company and sign away your right to recover additional compensation in the future, you should talk to a dedicated car accident attorney. An attorney can review your case and calculate your claim's full and fair value. They can also build a compelling claim and aggressively negotiate on your behalf to maximize your compensation.
How Long Do Most Car Accident Cases Take?
Every car accident claim is unique, meaning the time it takes to settle your unique car accident claim can vary. Common factors that could influence how long it takes to reach a settlement include:
The severity of your injuries
Who is responsible for the accident
The willingness of all parties to negotiate
Whether your case ends up in court
Some car accident claims settle within a few weeks or months. However, it is typical for many car accident cases to take several months or perhaps even years to resolve. Your attorney can weigh your legal options and evaluate the steps involved in the claim process – including investigation, negotiation, and possibly litigation –  to arrive at a rough estimate of how long it could take to settle your claim.
What Are Some Types of Car Accidents That Happen in Texas?
As the saying goes, everything is bigger in Texas. This is undoubtedly true for the best things in Texas, like barbecues, football stadiums, and wide-open spaces. However, Texas is also one of the top states in the nation for car accidents. It ranks behind only the more-populous state of California for the highest number of fatal car accidents in the U.S.
Tragically, the Texas Department of Transportation (TxDOT) reports that not a day went by in one recent year without a traffic fatality somewhere in the state. At least one reportable crash occurred every 57 seconds. Concerningly, these trends are only getting worse. According to TxDOT, motor vehicle traffic fatalities and injuries in The Lone Star State have increased significantly in recent years.
Some of the most common types of car accidents that take place on Texas roadways include:
Rear-end collisions – One of the most common traffic accidents is the rear-end collision. These accidents occur when one car crashes into the back of another. They are often caused when the driver of the rear vehicle doesn't leave enough distance between themselves and the car ahead of them.
Head-on collisions – A head-on collision involves two cars traveling in opposite directions colliding front-first. These collisions often happen at high speeds, which can be devastating. Many head-on crashes are catastrophic and result in severe injuries or fatalities.
T-bone accidents –  Also known as side-impact crashes, t-bone accidents happen when the front end of one car collides with the side of another. They often occur at an intersection when one or both drivers fail to yield.
Sideswipe accidents – In a sideswipe accident, two cars travel in parallel before the side of one car strikes the side of the other. Many sideswipe accidents are relatively minor. But being sideswiped can cause secondary accidents, such as head-on collisions where one car veers into other lanes of traffic due to the force of a sideswipe.
Rollover accidents – Rollover accidents happen when a car flips over onto its side or roof. A rollover can occur when a vehicle takes a turn too fast, loses control due to mechanical defects, or is hit by another vehicle with enough force to get tipped over.
Single-car accidents – These wrecks involve only one vehicle. They often happen when drivers lose control of their vehicles and crash into fixed objects.
Multi-vehicle accidents – Multi-car crashes, often called pileup accidents, have multiple cars involved in a chain-reaction accident. Many pileups happen on highways or other high-speed roads, especially in bad weather or congested traffic.
What Are the Common Causes of Texas Car Accidents?
Driver error is by far the most common cause of Texas car accidents. Drivers must be responsible for their actions on the road – but not all drivers take this obligation seriously. Driver error comes in many forms. Some of the most common driver-related causes of car accidents in Texas include the following:
Distracted driving – Distracted driving involves doing any activity that takes the driver's attention away from safely operating their vehicle. Common examples of distracted driving include texting, eating, or grooming while driving. TxDOT estimates that over 400 people died in distracted driving crashes statewide in one recent year.
Intoxicated driving – TxDOT also reports more than 1,000 people died in traffic crashes involving drunk drivers that same year. Drivers operating vehicles under the influence of alcohol or drugs have impaired reaction time and decision-making abilities, increasing the risk of accidents.
Driver fatigue – Drowsy or fatigued driving can be just as dangerous as drunk driving. When a driver is excessively tired, their reaction time and ability to focus on the road become impaired.
Speeding – Drivers who exceed posted speed limits or drive too fast for road conditions often cannot stop in time to avoid collisions. High-speed traffic accidents are particularly likely to have devastating results.
Reckless driving – Common examples of reckless driving behaviors include running red lights or stop signs, weaving in and out of traffic, making unsafe lane changes, and tailgating.
Other common causes of Texas car accidents include poor road conditions and mechanical defects. In some cases, other parties could be responsible for these contributing factors. These at-fault parties may include a local government agency that doesn't fix poor road conditions or a manufacturer that produces dangerous vehicles.
What Injuries Result from Texas Car Accidents?
Car accidents can cause a range of devastating mental and physical consequences. Even minor collisions are capable of causing life-altering injuries that can affect your quality of life, personal relationships, and ability to earn a living. Injuries that can result from Texas car accidents include:
Traumatic brain injuries (TBIs)
Back and neck injuries
Spinal cord injuries
Amputations
Broken bones
Soft tissue injuries
Organ damage
Internal bleeding
Burns
Contusions
Lacerations
Wrongful death
In some cases, the stress of enduring a traumatic car accident can trigger mental health conditions such as depression and anxiety. In many situations, accident victims also exhibit symptoms of post-traumatic stress disorder (PTSD).
What Should You Do After a Car Accident?
The actions you take in the days and weeks following an accident could significantly affect your compensation claim. With this in mind, you should:
Seek medical attention immediately – For your health and safety, seek medical attention right away – even if you don't think you got hurt. Immediately after an accident, many crash victims experience adrenaline surges, which can mask pain and other symptoms from crash injuries. This is why you should always visit a medical professional who can diagnose and treat your injuries following an accident. Your doctor can also document everything in your medical records, which can provide compelling evidence in a car accident claim.
Gather evidence if possible – Try to gather as much evidence from the accident scene as you can. Take pictures and videos of the damage to both cars from multiple angles. Talk to witnesses and ask for their contact information in case you need to speak with them later on.
Contact a Texas car accident attorney – After a car accident, you'll likely have a lot on your plate. An attorney can help you with the claims process while you focus on your recovery. Your lawyer can also manage communication between you and insurance companies, build a strong claim on your behalf, and aggressively negotiate for the money you deserve.
Stay off social media – Never post information or pictures about the accident on social media. In fact, it is best to stop social media activity altogether until your attorney resolves your claim. An insurance adjuster or opposing attorney could use your words or photos against you to twist the narrative and discredit your claim.
Keep all bills and receipts – Keep copies of all your medical bills, repair receipts, and out-of-pocket expenses in a secure location. You should also save documentation of missed time at work, such as bank records or pay stubs. These documents can help your attorney calculate a fair value for your claim.
Keep a pain journal – Documenting your recovery with a pain journal can be both therapeutic and practical. This journal is a written account of your daily struggles and how the accident and your crash injuries have impacted your life. Not only is writing in a pain journal a great way to express yourself, but it can also help your attorney build a strong injury claim on your behalf.
How Do You Prove Fault in a Car Accident?
To recover compensation from a personal injury claim after a Texas car accident, you must prove that the other driver or some other party is to blame for the accident. But collecting the evidence necessary to establish liability can take time and resources you might not have after a collision. Fortunately, an experienced car accident attorney knows what it takes to build a strong claim on your behalf. Your car accident lawyer can identify and preserve valuable evidence to create a compelling claim and demand fair compensation for your losses.
Depending on the specifics of your case, you could present one or more of the following types of evidence to support your injury claim:
Police accident reports
Photographs of the accident scene
Video footage of the collision
Eyewitness statements
Cell phone records
Medical records
Accident reconstruction models
Expert witness testimony
Ultimately, proving fault in a car accident requires carefully analyzing all the available evidence and the circumstances surrounding the accident. If you got hurt in a Texas car accident that was someone else's fault, consult an experienced attorney who can help you establish fault and seek maximum compensation for your crash-related losses.
What Damages Can Be Recovered for a Car Accident in Texas?
Following a Texas car accident, your financial losses can add up quickly. The compensation you can recover from a car accident claim will vary depending on the nature of the accident, the severity of your injuries, and other relevant factors. But with a successful accident claim, you could pursue compensation for the following types of personal and financial losses:
Medical expenses
Lost income
Loss of future earning capacity
Emotional distress
Pain and suffering
Property damage
What Is the Texas Statute of Limitations for Filing a Car Accident Case?
Recovering the compensation you deserve through an insurance claim isn't always possible. If this happens to you, you might choose to file a personal injury lawsuit to demand the money you need in court. If so, remember that Texas' statute of limitations says you generally have just two years from the crash date to file a lawsuit against another party. If you wait too long to file your case, you could lose your right to sue. That's why it's essential to consult a knowledgeable attorney as soon as possible after getting hurt in an accident.
How Long Can a Car Accident Case Take to Settle?
The time it takes to settle a car accident case in Texas can vary depending on the case's complexity, the severity of your injuries, and the willingness of other parties to negotiate a settlement. A relatively straightforward case involving minor injuries could settle within weeks, while a more complex or contentious case could take months or even years to resolve.
Contact a Texas Car Accident Lawyer
A car accident can have a ripple effect, disrupting almost every aspect of your life in its wake. And unfortunately, most insurance companies don't have your best interests at heart when it comes to your recovery. They want you to settle for as little money as possible so they can keep their shareholders happy. At Fleming Law, we want to make them pay what they owe and not a penny less.
Our team of skilled personal injury lawyers understands what it takes to build a compelling case on your behalf. We are committed to working with you in the aftermath of a car accident and helping you pursue maximum compensation for your injuries and related financial losses. Contact our Texas office today to arrange a free, no-obligation legal consultation and learn more about your options.